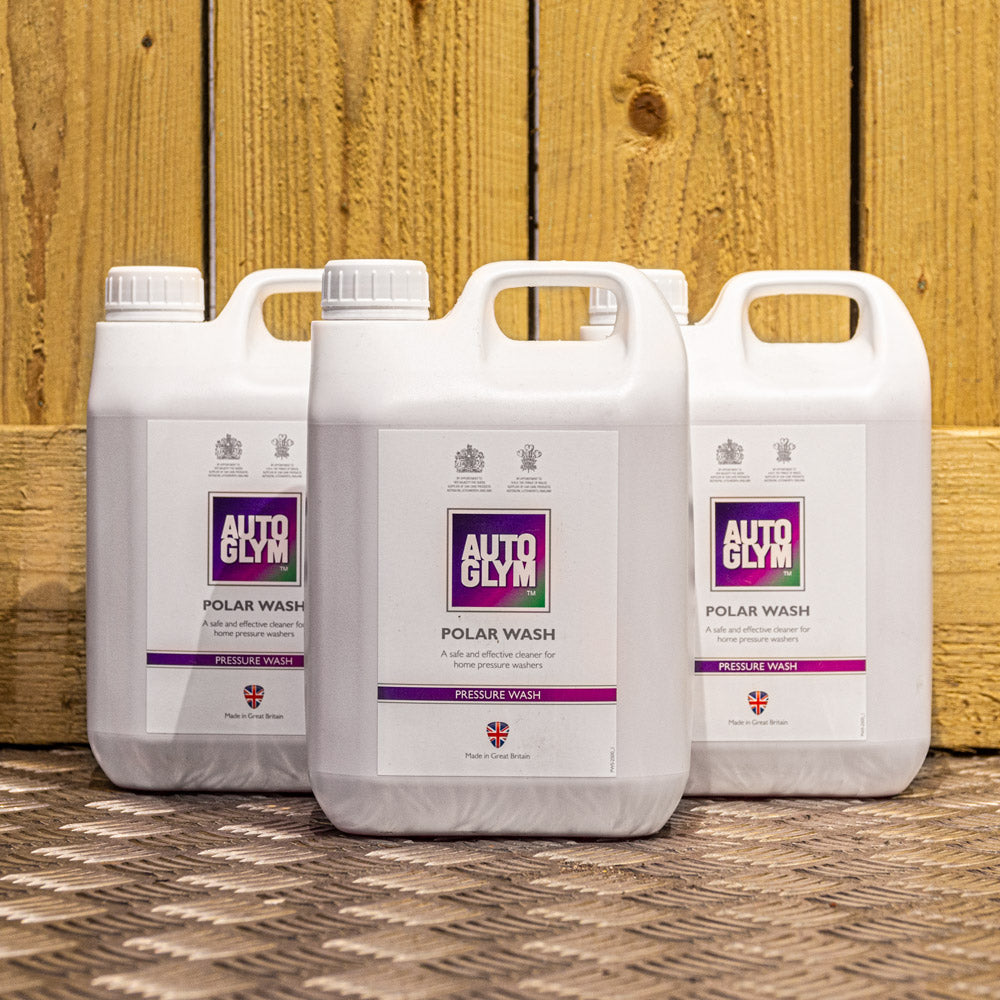 Autoglym Polar Wash - 2.5L
Regular price
$30.00
/
Tax included.
Standard Delivery 3-5 working days
A safe and effective cleaner for home pressure washers.
Polar Wash is a safe and effective cleaner that should be applied using a pressure washer with a foam gun after pre-washing with a snow foam such as Polar Blast. This impressive cleaner will cover your vehicle in a blanket of foam that makes light work of dirt, traffic film and road grime removal.
How to use this product:
Before you start, check that the bodywork and wheels are cool to the touch and out of direct sunlight.
We recommend a pre-wash with Polar Blast to gently loosen dirt. If not, rinse first with water to loosen heavy contamination.
Polar Wash can be used at various dilutions depending on the density of foam desired. However, we would not recommend using a dilution stronger than 50:50.

 

Adjust foam gun settings as required to increase or reduce foam. 250ml of mixed solution should be enough to cover an average sized car.  
Spray Polar Wash onto the vehicle, starting at the bottom, ensuring all exterior surfaces are covered, including glass and wheels.
The cleaner will begin to loosen dirt on all surfaces. For the most thorough clean we recommend agitating the foam with a sponge or wash mitt.
Rinse thoroughly from the bottom up and dry.
Polar Wash is not suitable for use on soft top convertibles.
Top Tip –
Follow with Polar Seal for a
protective, hydrophobic coating.
We offer a fast, efficient and hassle-free delivery service.

Free Delivery (Orders Over £75): 3-5 Working Days
Standard Delivery: 3-5 Working Days £5.95
International Delivery (Europe & USA): Up to 14 days £10
International Delivery (USA): Up to 14 days £10
Rest of the World: Up to 14 days £15

If you are unhappy with your products for any reason, you can return them to us in accordance with the below:
There are 2 options for returning items purchased online:
SALE ITEMS- can be returned by post or onsite within 14 days from the receipt of the goods.

Items returned by post can be refunded for the amount paid.

Items returned to stores can be refunded/ exchanged for the amount paid.
PAYPAL PURCHASES- items returned by post or Click & Collect will be refunded to your PayPal account.

Items returned to store will be refunded to a Gift Card.